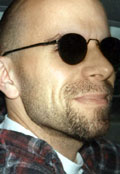 So I am looking over the
The Ultimate Magic Playtest - Round 2: Words of Power
that
Paizo
put out and I started to go over it and noticed that this system they have build would work VERY well as the Spell Creation Cookbook that I wanted to do a few years back. I approached
Sean K Reynolds
and few years back when I was interested in doing a Spell Creation Cookbook that matched up with my
Race Creation Cookbook
and
Prestige Class Cookbook
. A nice little trifecta of products. I learned from Sean he was planning on doing a book called
How to Built Spells
. Since I though it was silly to make a product that directly competed with his I said no to the whole thing and moved on to some other project. Now years later,
The Ultimate Magic Playtest - Round 2: Words of Power
comes out. I like what I have seen so for and I think I might be making some changes to it to possible make this my Spell Creation Cookbook. Just something to ponder about for a while. Talk to you later...