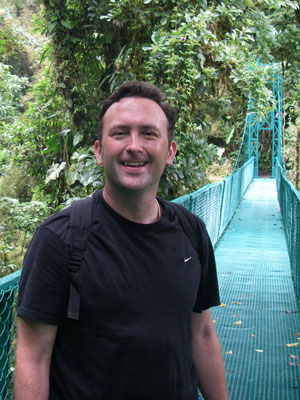 Matt Forbeck has been a freelance writer and RPG publishing legend of such products from companies like AEG, Atari, BOOM! Studios, Decipher, DK Publishing, Games Workshop, Green Ronin, Image Comics, Mattel, Penguin, Pinnacle, Playmates Toys, Random House, Reaper Miniatures, TSR, Ubisoft, White Wolf, WildStorm Productions, Wizards of the Coast, and many, MANY more. So if you want to know about becoming a freelance here is the person you should listen to. Matt was kind enough to do a guest post for us here at In the Mind of a Mad Man, about becoming a freelance writer.
Hope you enjoy…
I've been a freelance writer for the vast majority of my adult life, and even in the times I've had a day job, I still worked as a writer/game designer. Becoming a freelancer may seem like a huge leap, and it is, but all it really takes is determination and patience.
First, you need to figure out what sorts of things you want to write: stories, rules, RPGs, essays, poems, news articles, interviews, or whatever. Then you need to research the market for those sorts of bits — to find out who might be willing to pay you for your work.
If you already read those sorts of things — and you should if you want to get published in that field — it's simple. Find out who published the articles and then hit their website. Most publishers have submissions guidelines listed right there.
Read the guidelines and follow them to the letter. Some guidelines feature "idiot tests," simple things you must do so that the publisher can tell that you can read and follow directions. Do just that, and you'll pass.
Once you know who to contact and how, do so. Usually you should send a simple query note first, nothing longer than one page. If the editor wants to see more, he or she will ask you for it. Once that happens, read and follow the direction again. Rinse and repeat until you're published.
There's a lot more to it than that, of course. You need to have both some talent and some skill. And you need to be able to hit your deadlines. If you can manage those three things, you can go far.
There's no licensing involved in becoming a freelance writer. You can't take a class to get certified. You just need to keep improving your writing and putting yourself out there until someone manages to recognize your brilliance. This usually happens slowly.
Most editors have been burnt before, and they're shy enough about it now that they like to start out any new relationship by taking it slow. Unless you have a list of published credits already, smart editors will only give you small projects, things that they can let go of if they never show up — or that they can re-commission from someone else in a heartbeat. That gives each side a chance to make sure that they can trust each other before you move on to bigger things.
Some writers think that quality of the work is the only thing that matters, and to a certain extent that's true. No one wants to publish crap, and no one else wants his or her name attached to it. However, if the publisher doesn't have anything to publish when a piece is scheduled, it doesn't matter how good it might be when it shows up. The lack of that piece means no sales (or ads or patrons or whatever) until it arrives, and the publisher's landlord, phone company, internet provider, and printer don't care about anything other than when they can expect their not-quite-here-yet money.
Make your editor's job as easy as you can, and you'll get the chance to show off your talent and skill as often as you like. Editors love writers that do that, and they'll come back to you time and again, often with better projects every time.
Once again thanks to Matt for taking time out of his BUSY schedule to give us some great info about being a freelance writer. Talk to you later...