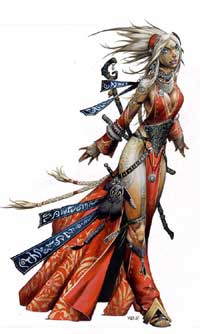 While talking to JP Chapleau last night on Skype for our "weekly business call", I finally agreed to do something that I knew we had to do but been putting it off.

So now we have to start thinking about what kind of NeoExodus iconic we are doing for the setting.

Of course each of the races from NeoExodus Chronicles: Races of NeoExodus will have an iconic character but NOW the question of are we going to include standard Pathfinder version of the fantasy races with the iconic OR will we create all new versions of the core fantasy race specifically for NeoExodus?

I always assumed that I would be creating all new versions of the fantasy races, but JP presented a few reasons why I shouldn't.

I am going have to sit down with this for a while and think it over.
Plus we have decided that we need to start building our adventure line for the release of the Campaign setting book. JP has already written Origin of Man; The Armans and the Nasians share a number of common traits. They are taller and share the characteristic blonde hair. However they live on opposite sides of NeoExodus. One man thinks he holds the key to proving that both share common ancestry. All he needs is a group of adventurers to escort him. An adventure for characters levels 3-5; and we have to build a release schedule of one adventure per month and maybe one sidetrek adventure a month. Busy, busy busy.

Talk to you later…